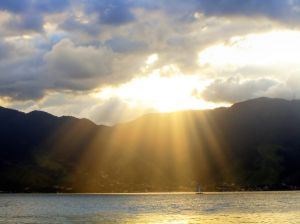 In our women's Bible study at church we've just finished going through the book of
Ephesians
. I really enjoyed studying this book again. The Word of God is always fresh and new, with encouragement for
today
! I have always been so impressed by that. No matter where you find yourself, what struggles you might be going through, our God cares about you intimately and speaks through His Word
exactly what you need
. We summed up the entire book last week, and as I studied the book as a whole, I was struck by these verses.
"For you were once darkness, but now you are light in the Lord.

Walk as children of light

(for the fruit of the Spirit is in all goodness, righteousness, and truth),

finding out what is acceptable to the Lord

." Ephesians 5:8-10
So much of the book of Ephesians has to do with the difference between who we once were without Christ and who we are now
in Him
. You notice that phrase "in Him" over and over in the book. When we first trusted the Lord Jesus for salvation, He didn't just save us from an eternity in hell; He "blessed us with every spiritual blessing in the heavenly places in Christ," (1:3) in order for us to live this life here on earth
ABUNDANTLY
and in a way that brings Him glory and honor! No matter what comes our way, since our lives are now
in Him
, we have the resources to develop an intimate relationship with the Lord and to do His will. The first 3 chapters of the book are all about that: the riches that we as believers have in Christ!
In light of all that we have been given, and that we are no longer living in darkness, Paul encourages us in chapters 4-6 to have a "walk worthy of the calling with which you were called." (4:1) And as I type those words, I am so convicted by them! Does my life do justice to the One who gave
His very life
for me? Am I walking in a way that makes it undeniable that I am a child of light? Am I actively seeking the Lord's approval for the things I include in my daily routine?
Scripture is often so black and white. We were once in darkness, unregenerate souls, condemned because of our own sin. And yet the Lord Jesus raised us up, as a testimony of His grace. And now He wants me to
live
like it.
"See then that you walk circumspectly, not as fools but as wise,

redeeming the time

, because the days are evil.

Therefore do not be unwise, but

understand what the will of the Lord is

." Ephesians 5:15-17
I really like the photo that I put at the top of the post. Ethan calls the beams of light, "sun beans," and when they pour in our living room windows in the morning, he tries to jump on them. "I got a sun bean, Mom. Did ya see? Did ya see? I got a sun bean!"
I, too, am a sun lover. :) I can hardly resist the outdoors on sunny spring and summer days. I want to be that way about my spiritual life too though. I want to be pulled towards the things of the Lord, to not be able to resist jumping into the life the Lord has for me. I want to walk worthy of the Lord, to seek out His approval of everything I think, say, and do. As Charlie Fizer said recently, "The secret of the Christian life is knowing the will of God
and doing it
."
And you know, the darkness may look appealing at times, but that's only because it's dark! Hello! I can't SEE it for what it really is, you know? :)